Straight off the bat, I want to apologize for not delivering on my weekly free seo blueprint. It's been 6 weeks since I wrote that post, so I might as well call this column "Semi-Bi-Monthly", as redundant as it sounds.
However, the SEO blueprint idea got a lot of buzz from the community, and I want to continue posting them. Today, we'll explore the party rental industry in New Jersey. This choice is completely random, just because I see ConTent Party Rentals' trucks on my way to work all the time. Shall we dig in?
Brief On-Page Analysis
Their homepage does a good job of simplifying navigation by giving visitors big, easy-to-click buttons that link to their main services – Tent, Chairs, Stage, and Table rentals. Those landing pages are great at answering a major question – PRICE. But they miss several very important aspects necessary to great conversion rates:
More images per product
Product dimensions
Product Reviews
Aside from that, the entire domain lacks a healthy amount of content. Most pages barely have 100 words of content, and most of the time, that content is repeated on every page.
Digging Into Off-Page Analysis
A brief open site explorer report tells a pretty worrisome story: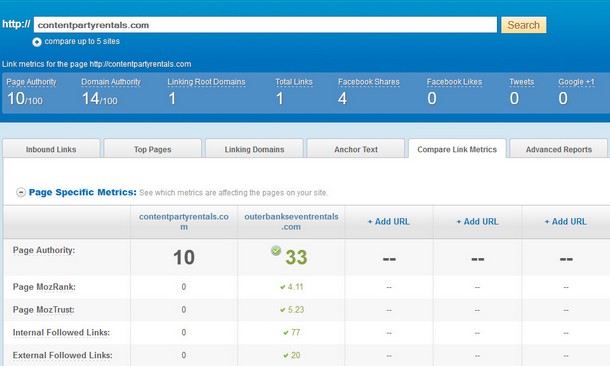 In the report you see a comparison against a site in the very same industry that we built for a client on the Outer Banks. It's a site that we havent optimized in almost a year, and it's not their primary website. I was surprised to see the contrast.
This report shows a great need for – of course – strong link-building. Yeah, link-building is the "magical pill" for SEO, but a deeper glance reviews absolutely no social presence, which can be an important source of domain authority.
Top Keyword Opportunities
As in all successful SEO campaigns, we begin by looking at Google Keyword Tool to determine which keywords have the most search volume. Clearly, search volume only dictates a part of the campaign. But we'll get there – check out what the biggest keywords are for this industry: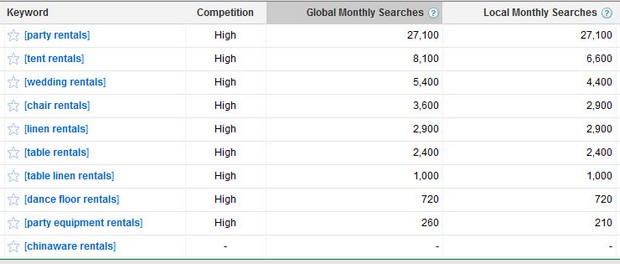 Even though Party Rentals has, by far, the biggest search volume, that keyword is very generic. Somebody looking for party rentals could be looking for tents, tables, chair, chinaware, or even just a popcorn machine for their children's birthday party. It's hard to asses relevancy in these cases, and often times, when chasing generic keywords we spend a ton of time and money without a clear idea of Return On Investment. After all, ROI is the only way to keep track of your search optimization team.
So we're going to look into the keyword Tent Rentals. Not just because it's the 2nd highest volume keyword, but because it is targeted. And because it's a large-ticket item with a great profit margin, one that usually triggers additional sales of smaller items, such as chairs and tables.
Taking the Campaign with Local SEO
Okay, so tent rentals is our winning keyword. That's great, but we dont want to optimize simply for "tent rentals", since they dont service the entire US. We'll have much better results tapping into local keywords. Let's dig into their local market and figure out our plan of action: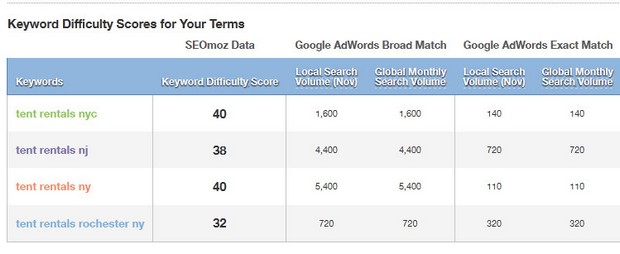 "Tent Rentals NJ" and "tent rentals NY" have a very similar search volume. Depending on where Content makes most of their business, we'd pick one or the other. Without that data, based on current rankings, I'd focus on "tent rentals NJ". After all, it's better to start with poor rankings than no ranking at all. See the chart below, from SEOMOZ's rank tracker:

Bring In The Competition!
Mesmerize your eyes with some of the competition: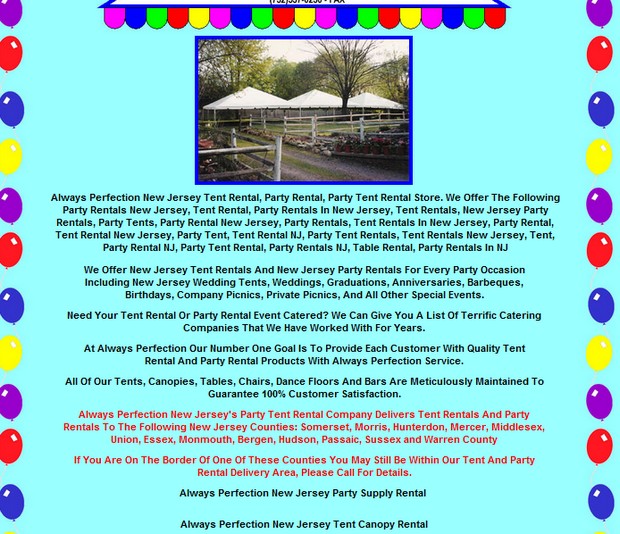 Lol. I cant believe this site is still ranking after so many Panda iterations. You know what's worse? They have pretty impressive authority scores: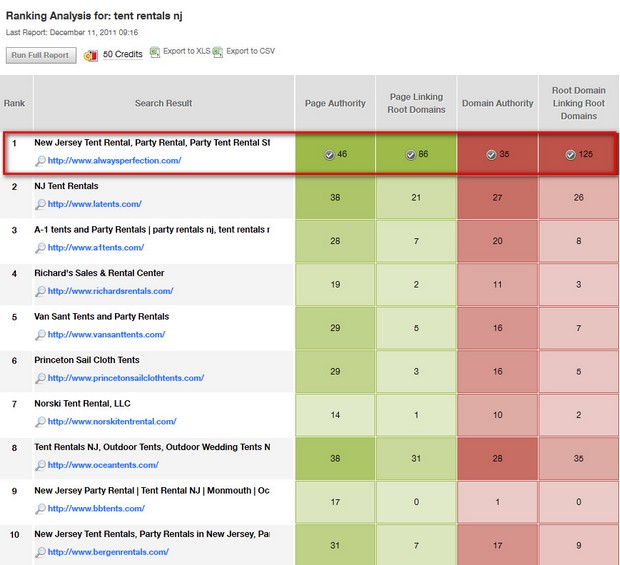 The Good News & The Attack Plan
Competition is certainly not the strongest. There are tons of opportunities for a well-optimized site to take over. If we were in charge of Content Party's SEO, we'd focus on:
Improved Site Structure – more content, more pictures, maybe even some Youtube Slideshows
Relevant link-building – most of their customers are corporations, that might have blogs. If they had a post about their party, they could link back to Content.
Social Integration – mobilizing wedding planners, party coordinators, and even staff to Like, Tweet, and +1 their page can do wonders for their domain authority
Final Thoughts
Online, Content Party Rentals good certainly use a hand. The party rental industry is highly competitive, but focusing on niche services they have the opportunity to gain precious market share. And, with tents as their main service, generating a great return-on-investment wont be a problem.
Now, I must say – we're not working for Content Party Rentals or any other company in their industry. I picked their company randomly, and I can do the same for yours, if you want. Just leave me a comment and we'll get our team on it!
Finally – if you decide to use some of the ideas we shared here, at least link back to us and tell us how you did it in the comments.