You have to admit there are very few things more luxurious than a yacht. Cut to Jay Z's "Big Pimpin'" video for a brief second here. You may argue that private jets are in the same category. Another thing both planes and yachts have in common is the fascination their building process causes on most of us men. They're hugely successful applications of ingenious human engineering, and the fact they float or fly is impressive.
So, How Does Your 'Big Pimpin' Analogy Applies To SEO?
Well, it just so happens that the Outer Banks (where our offices were founded) is home to some of the most acclaimed fishing yacht builders in the world. They're all installed around the little town of Wanchese, North Carolina, and today we're going to help one of these builders with their SEO.
The reason I picked Spencer Yachts for our INAUGURAL "free SEO tips Weekly" is because I'm used to seeing cars around the OBX with their stickers. Marketing's first battle is perception – and because I see those stickers pretty much everywhere, my perception was that Spencer Yachts had a strong brand, therefore they made great boats. My analysis proved my perception was right, but it's funny how that works.
Anyway – today I'll give Spencer Yachts a pretty complete SEO Blueprint. We're going to cover their site, their links, and which keywords they should focus on.
Excellent Tools, Little Content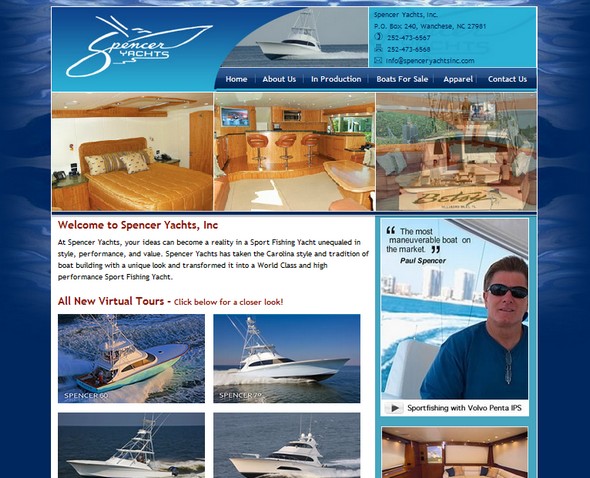 Their homepage showcases every boat model with its own virtual tour. It also has a 3 different slideshows on the header (all flash-based, of course!), and a testimonial from their founder.
Taste aside, the homepage is confusing, lacks a clear call to action, and has extremely shallow content.
The virtual tours, for example, are expensive, attractive assets – very easy to spend a few minutes on each one, navigating in and out of the boats. But its potential is being severely undermined.
Website Structure Improvements
1. Keep only 1 slideshow in the header
Make it fill 100% of the wrapper width, but maintain a single set of images there.
2. Replace the virtual tours with a bit more copy
The goal here is two-fold – we need to unclutter the page AND we need more relevant content. That leads us to the 3 step:
3. Showcase the virtual tours in a portfolio
By installing a portfolio structure, each boat model would then have its own page. Each page with boat description, specs, etc.. AND a link to that beautiful virtual tour.
These 3 simple steps quickly reduce the noise on the page and give the site 6 new pages to collect inbound links (internally and externally).
Most Likely Targets For Fishing Yachts Optimization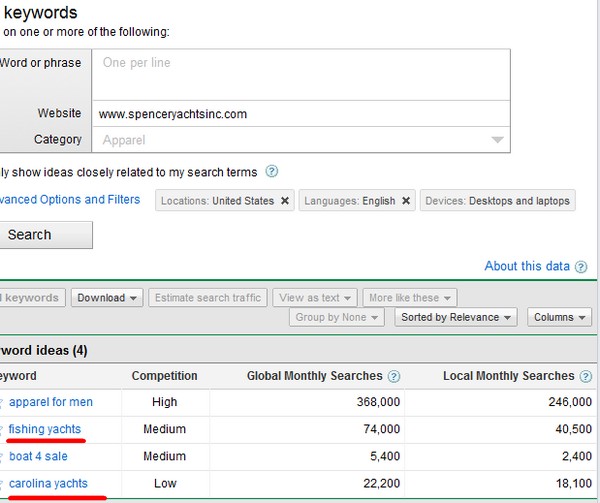 Using Google's free AdWords Keyword Tool, we identify 2 of their biggest keywords – "fishing yachts" and "carolina yachts". A quick expansion of those keywords gives us terms such as sport "fishing yachts" and "fishing yacht builder", amongst other variations.
Here's how they currently fare: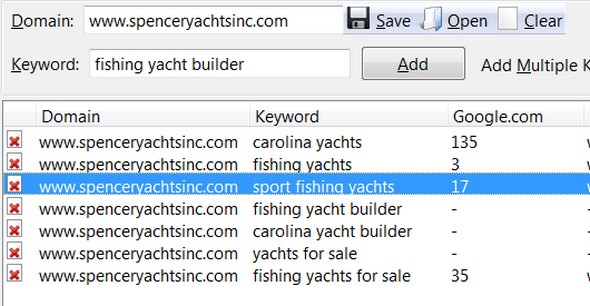 They're doing quite well for the term "fishing yachts". It's a great accomplishment, but it's also a very generic term. You can see that for more targeted searches, they're fairly close (17 is not that bad), but still far from a 1st page ranking.
Specially given their competition in the industry: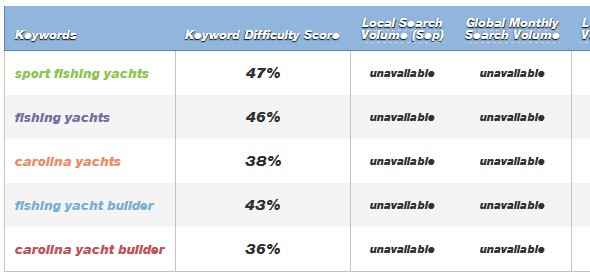 Increasing Domain Authority
With a never-ending series of Google Panda updates, brands should more than ever focus on improving their domain authority by nurturing relevant inbound links and allowing users to engage with the website using social sharing buttons.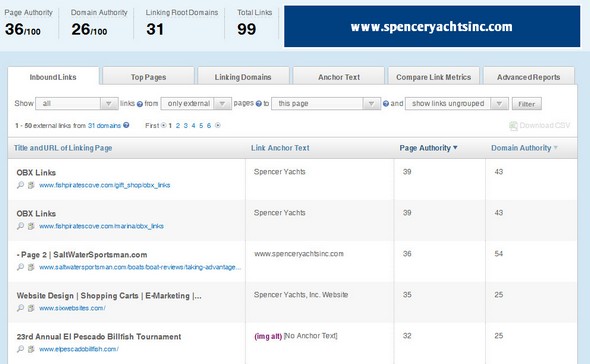 OpenSiteExplorer currently gives Spencer Yachts homepage an authority of 36 and its domain authority of 26 (out of 100). Their best-ranking competitors have an average of 49-53 domain authority. SY would only need a few relevant inbound links to start jumping up on the SERPs.
Parting Thoughts
In a moderately competitive industry, Spencer's content, history, and reputation puts them in a fantastic position to begin a solid SEO campaign. I'm no expert in the buying cycle of million-dollar yachts, but with the campaign generating 1 new boat deal per year, I can estimate a large ROI. Plus, there are many other areas to focus on, such as "yachts for sale" and "used yachts for sale", as well as "yacht repair", amongst others.
Who Will Be Next?
Do you own a company? Want us to feature it next week? Leave us a comment and we may give you a totally free SEO blueprint. No strings attached 😉
Disclaimer
While I'm fascinated by yachts, Market & Convert currently does not work for Spencer Yachts or any other boat-builder, for that matter. Opinions expressed here are based on my research alone and no Spencer Yachts employee was involved in writing this article.