Previously, we wrote about 3 ways to keep track of your SEO Company, and one of those involved Google Analytics. GA is the most powerful tool on a small business owner's arsenal when it comes to crucial traffic data.
Today, I'll show you how to track conversions using Google Analytics' GOALS. This is extremely useful to track all sorts of action on your site – from knowing how many times visitors reach a specific page, to tracking those users that spend more than X minutes on site.
For the purpose of this tutorial, I'll assume you – or your web team – have already properly installed GA on your site. I'll also assume you have a simple "thank you" page that users can only reach AFTER taking action.
About Your Thank You Page
We need to talk briefly about the famous "thank you" page. A few years ago, the only way to track conversions was to serve visitors a unique page, such as a confirmation page for purchases, or a simple "welcome to our newsletter" page.
Today, you can track conversions using AJAX without having to serve a new page. Some thank you pages, that contain download links, may also be generated dynamically, for added security. For the purpose of this tutorial, we'll talk about the older style page:
Hidden from Navigation
Only accessible AFTER an action is taken
Very shallow in content (so users dont bookmark it and come back later)
In a static location (www.example.com/thank-you.html) or similar.
With that, we begin:
Setting Up An Analytics Goal


1 – Log on to your GA and before you click on "view report", click on "edit".
2 – You'l see a screen with all of your site's details. Click on "add goal"

3 – Now we start setting the goal's details: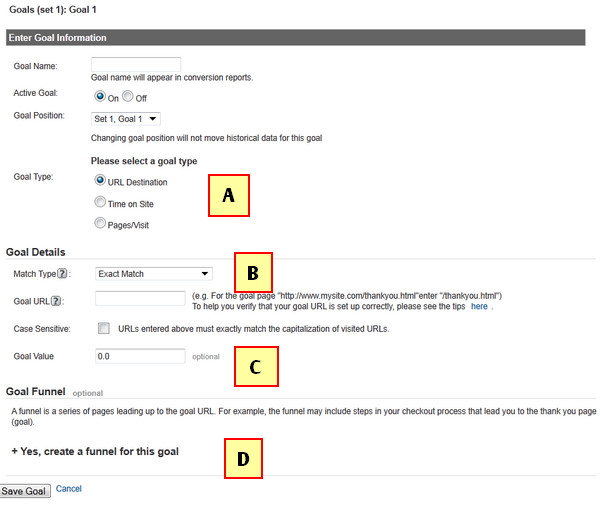 A – For this goal, we're tracking a URL destination. You could track Time on Site, or # of Pages/Visit. Those are important pieces of data, but not what we want right now.
B – Since we're using a static page, we'll select "EXACT MATCH". The other options are applicable only to dynamic pages.
[message type="success"]GOAL URL – if your thank you page sits at www.example.com/thank-you.html, enter only /thank-you.html. If it's at www.example.com/shopping/thank-you.html, enter only /shopping/thank-you.html.[/message]
C – Goal value is easy to set if you're selling a single product at a specific price. But what's the value of a newsletter subscription or a lead? This is a bit tricky and it varies depending on your industry, sales funnel, etc..
D – Speaking of sales funnels – if you have a sales process that involves steps like a Shopping Cart, Address, Credit Card Info, Check Out, and Confirmation pages, you can keep track of each step as a part of a sales funnel. GA will give you data to help you analyze behavior step-by-step. Very useful for ecommerce sites.
How Analytics Goals Show On Your Dashboard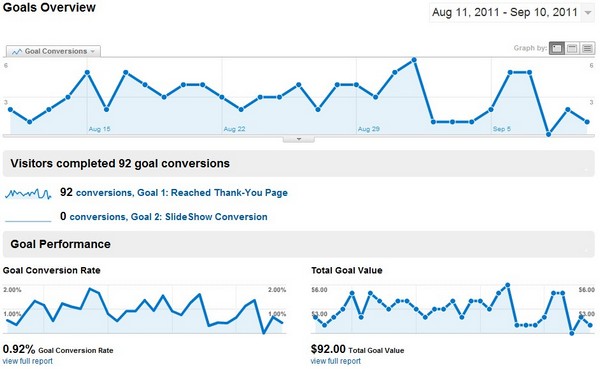 This is how your Goals report will look once it's fully implemented.
So there you have it. Now, you're able to track how many visitors actually reached each of your "thank you" pages. If you need any help, feel free to ask. Leave us a comment below, most of the time we're able to give you quick directions and will not charge for it.
And if this tutorial helped you, let us know too. Leave a comment here, reply to us on Twitter, or comment on our Facebook Fan Page.